With the support of a Partner like BlackBox by our side, with over 40 years of extensive experience, we can offer a solution that covers everything from the design, supply, installation, and maintenance of your IT needs. This includes all industries, from education to defense, transportation, corporate, government, security, etc. Our solutions include applications such as control rooms, conference or crisis rooms, security, control and industrial processes, etc.
Make your workflow easier and more intuitive
Devices that allow the control of multiple PCs from a single keyboard, monitor, and mouse. One or several users can manage multiple PCs, various video channels, or USB peripherals. They simplify processes in control and data centers.
A superior user experience and better workflow, increased collaboration, and better decision-making. Faster access to critical systems from any user console, simultaneous operation from a single desktop, immediate switch to hot standby machines, remote operation from backup control centers, access to physical and virtual machines through a single KVM environment, etc.
KVM extenders adapted to a multitude of applications to improve productivity. With KVM solutions, remove PCs from the operator's workstation, making the operator's job easier. Transmit DVI and HDMI video signals, as well as keyboard and mouse, digital or analog audio, series, USB HID, and USB 2.0. Centralized management, server maintenance, software updates, and network management are all centralized. This results in a reduction of time and costs associated with personnel support.
AV / Multimedia Solutions
The integration of people, audiovisual media, and spaces achieves dynamic collaborative experiences. Collaboration spaces have become the center of hybrid work ecosystems that merge people, culture, and commitment. Current collaboration spaces, located in conference rooms, waiting rooms, and meeting spaces, have the latest audio and video technology to integrate people and spaces and create employee-focused workflows. Successful audiovisual solutions harmonize collaboration experiences both in the room and remotely, allowing everyone to discuss, present, and share ideas as one and without barriers.
Broadcast AV signals to an unlimited number of remote screens using MultiCast.
Distribute and extend uncompressed 4K video and audio from any source to any screen through your network.
Easily control how content is displayed on each screen.
Security against unauthorized content viewing. Real-time status monitoring and complete device tracking.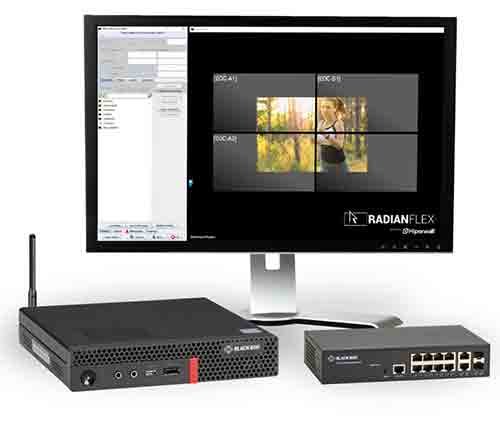 Create Video Walls in command centers, crisis and operations rooms, completely scalable and without screen limitations.
Use the RADIAN system to eliminate hardware and have a 100% flexible and scalable platform, allowing for easy and cost-effective future expansions. Redundant systems ensure system assurance in case of failures.
Complete control of rooms and multi-systems. Get the maximum level of automated room control with ControlBridgeTM. Use this comprehensive system to connect and control everything in conference rooms and control rooms: Audiovisual systems, including projectors, sound, screens, and others; KVM systems; and room controls, such as lights and blinds.
Instead of fumbling to set up the room, just press a button or use a touchscreen. With ControlBridgeTM, you can focus on the goal, not the technology.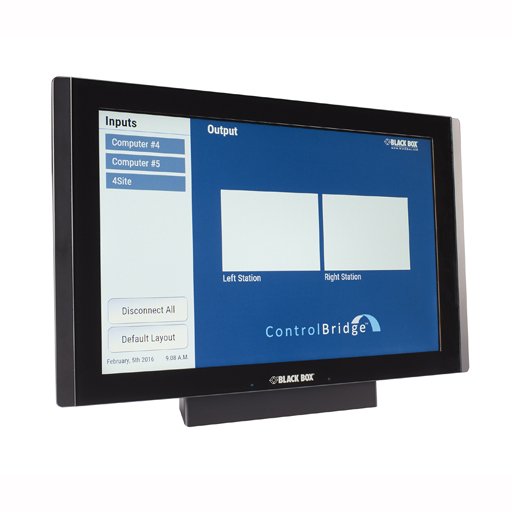 The message describes a system for integrated control of AV and a room, using a single button to lower the screen, dim the lights, turn on the sound, and share presentations. The system offers automation and both local and remote control through Ethernet, series, IR, digital I/O, and relays.
The technology is scalable, with control processors available for applications of different sizes and compatible with existing technologies.
The system supports unlimited input devices, including touchscreens, buttons, and mobile devices.
Extenders IP enable remote access to connect and control devices from afar.